// EDITIONEN
go1984
Overview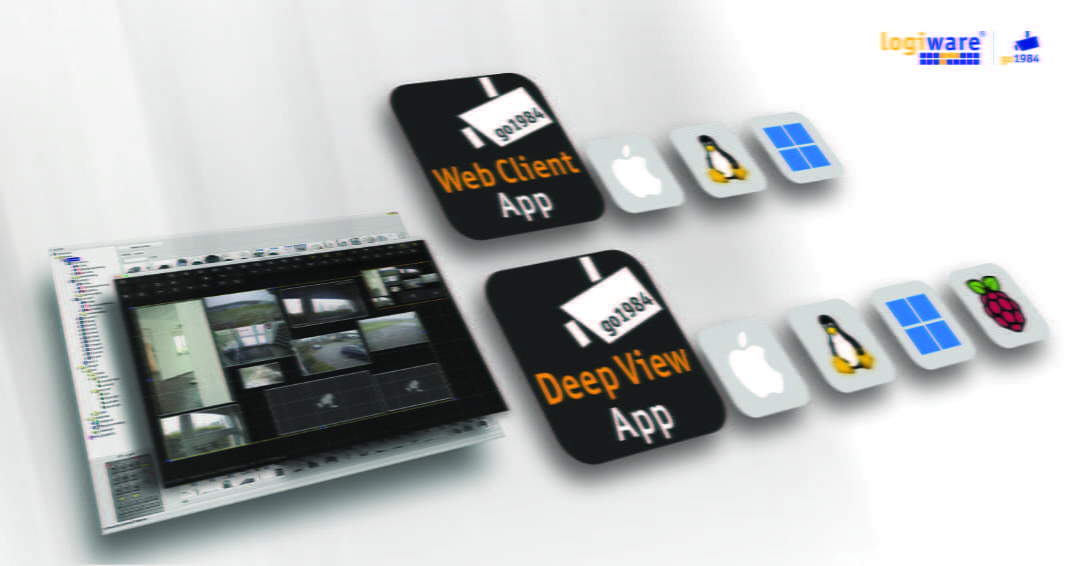 Pro
Recommended for a surveillance solution with up to 16 network cameras. Up to two users can access the go1984 server simultaneously from remote computers or via mobile devices.
Enterprise
Best choice for a professional and future-proof surveillance solution with up to 32 IP cameras. You plan to operate go1984 in a server environment in service mode and enable more than two parallel remote accesses to the go1984 server.
Ultimate
Best choice to meet demanding requirements with the full feature set. You benefit from the doubled performance index compared to the Enterprise Edition and want to integrate up to 64 IP cameras.
Recommended max. Camera count (1)
max. FPS total at 720p/1080p
Processing of H.264 / H.265 up to max. resolution (3)
Simultaneous client connections
max. possible server count in Deep View App(5)
Support for SSL certificates from other providers
Installation as a service
Automatic scene deletion based on scene age
Calling an external program in case of alarm
Calling an external program in case of alarm
max. Number of devices for push notification (4)
Support for Intel, Nvidia and AMD GPUs.
Client access via https (SSL certificates from "Let's Encrypt")
Automatic scene deletion remaining memory/occupied memory
Support for multi-core processors
Integrated user management
Adaptive motion detection incl. masking function
Scheduler
Image center with individual views
Image center with multi-monitor support
Unlimited recording capacity
Network drives (NAS, SAN) for recording
Pre-/post alarm recording
PTZ control for movable cameras
Email sending in case of alarm
FTP upload in case of alarm
Build-in DynDNS client
Support of analog-cameras via video encoders
IO Control (IP-camera IOs or logiware IO-Stick)
(1) The recommended upper limit is max. total 16/32/64 Megapixel (MJpeg) in Pro/Enterprise/Ultimate Edition.
(2) The performance index reflects the relationship between the performance of the individual editions . It has an effect especially with a high number of cameras or when using megapixel cameras.
(3) H.264/H.265 is available in all editions up to 4K (UHD). Depending on the edition, further processing is carried out up to the above-mentioned max. Resolutions.
(4) Number of push notifications is limited to 100 messages per device per day. Precondition for push notification is an active go1984 update service.
(5) The go1984 Deep View App allows the integration of multiple servers. To include more than 2 servers, at least 1 server must be an Enterprise Edition. To include more than 4 servers, at least 1 server must be an Ultimate Edition.